GSC 310C Counter Top gas hob with brass burners tempered glass

3

burners
Faahu'ahu'araa o te tao'a
Mana'o i teie nei
GSC 310C Counter Top gas hob with brass burners tempered glass 3 burners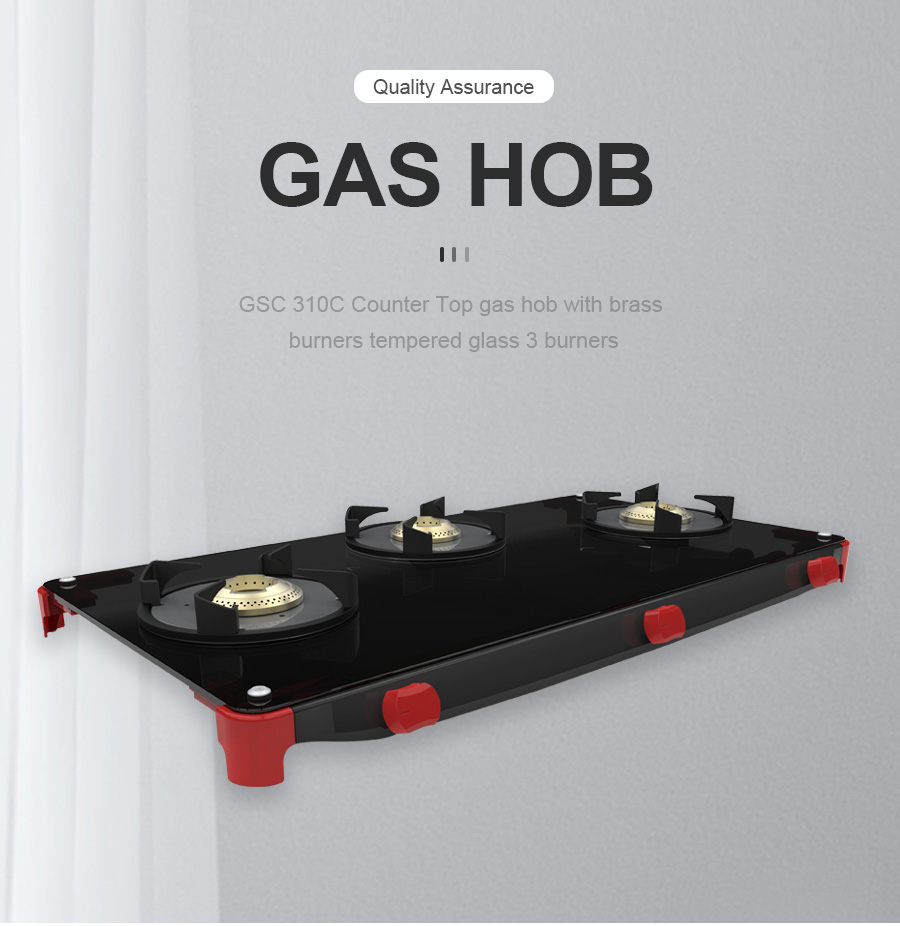 Width

73

cm

Burners

2 * 80

mm Burner

(2.2

kw

+ 2.2

kw

)

Pan support

Enameled

Faaoti i te

Toughened black glass

(590*350*6 mm)

Ignition

Auto Ignition

High thermal efficiency

68%

Knob Material

ABS

Product size

(

L*W*H

) mm

730 x 420 x 86 mm

Carton package size

(

L*W*H

) mm
790 x 490 x 160 mm (

Loading qty for 40HQ

: 1092te mau pcs)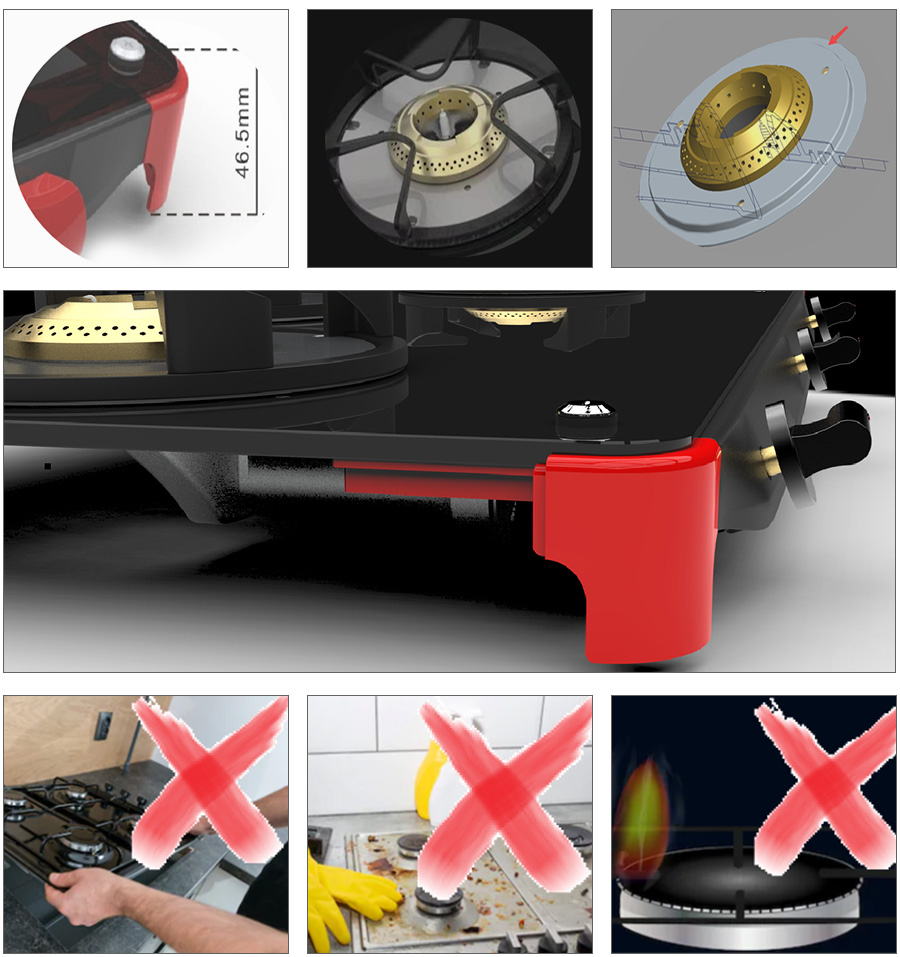 1.Ultra-Slim design
This gas hob features a ultra-slim design with a sleek and glossy tempered glass surface. It comes with an aluminum control frame perfectly match with the tempered glass surface.
2.High efficiency brass burners
The high efficiency brass burners ensure equal heat distribution and high thermal efficiency up to 68%.
3.Spill proof design Drip Tray
Stainless-steel drip tray with unique spill proof design, prevents the liquid from spilling out.
4.Heat resistant legs
The support legs of the gas hob promise stability with heat efficiency facility. The polymer legs are heat-resistant which enhances product efficiency.
5.Counter Top design
This gas hob is free-installation. Just simply place it at the correct position and connect it to the gas pipe. It can be used immediately.
6.Durable Tempered Glass
The shatter-proof tempered glass surface is long-lasting and convenient to clean.
7.Automatic Ignition
This gas hob is equipped with an electronic device which automatically ignites the gas burner by triggering an electric spark. No matchstick or pilot lighter is needed to ignite the gas.

1.What is the thickness of the tempered glass?
The thickness of this gas hob is 6mm. It's ultra-slim, easy to carry and maintain. The tempered glass has gone through strict test to ensure the strength. So consumers can rest assure of the quality.
2.Dose this cook top come with 2 burners?
Yes. We have 2-burner model which you'll find in other page.
3.Are there any color options for the legs?
Yes. Customers can choose different color for the legs according to their preference.

Foshan Dimple Electric Appliance Co., Ltd was established in 2010, we are specializing in range hoods, gas hobs, and other small household appliances. Adhering to the enterprise spirit of "Integrity, Aggressive, Innovation, Excess", the company actively expands the global market and has established long-term relationships with many known brands. Especially in the India market, we have dominant market share. Dimple also get into another market like Vietnam, Pakistan, Indonesia, Thailand, Malaysia, Mexico, USA at an ideal speed.

The company has obtained ISO9001 and ISO14001. We are adopting PDM, ERP, MES to control the whole process from R&D to quality to ensure reliable quality and timely delivery. Most of our products are covered with CCC, GS / CE / EMC / LVD, CB certifications.

Through years of development, the company has always adhered to the company mission "Provides market-satisfied products and service", Dimple keep on invest in R&D, improve order lead time, giving full support to our partners.

Going forward, we are going further deep in increasing the performance and design of range hood, and we are developing ranges of built-in hob, tablet hob, super slim cook-top to cater all different kinds of better cooking experience to realize our vision, let us "Enjoy cooking"!
Dimple warmly welcome all kinds of OEM/ODM orders!

Our range hoods and gas hobs are attention to detail and superb quality combined with exceptional value. Unlike other manufacturers that offer similar products to all customers, Dimple is always offering innovative products with different features to our valuable customers. It helps them better differentiate from other brands. For example, most suppliers are offering chimney hoods with European systems, while Dimple is offering Chinese systems with high suction power, heat auto-clean, easy to maintain and easy to clean features.
Mai te mea e fifi to outou no ni'a i te GSC 310C Counter Top gas hob with brass burners tempered glass 3 burners, e aore râ hinaaro ia ite mai i te tahi atu mau haamaramaramaraa no ni'a i te T Shape Range Hood,Te mau hood no ni'a i te faito o te mau tu,I raro a'e i te ana'iraa o te mau ana,Te mau ana'iraa o te păpă Hob,Te mau ana'iraa purumu e ô-ino-hia hob,te tahi atu â. Manava i te farereiraa mai ia matou!
Te tia'iraa i ta oe uiraa.
A hapono mai i ta oe poro'i ia matou: