GHS76-310F Hob top with full brass burner high thermo efficiency 3burner gas stove
Product Detail
Feedback now
GHS76-310F Hob top with full brass burner high thermo efficiency 3burner gas stove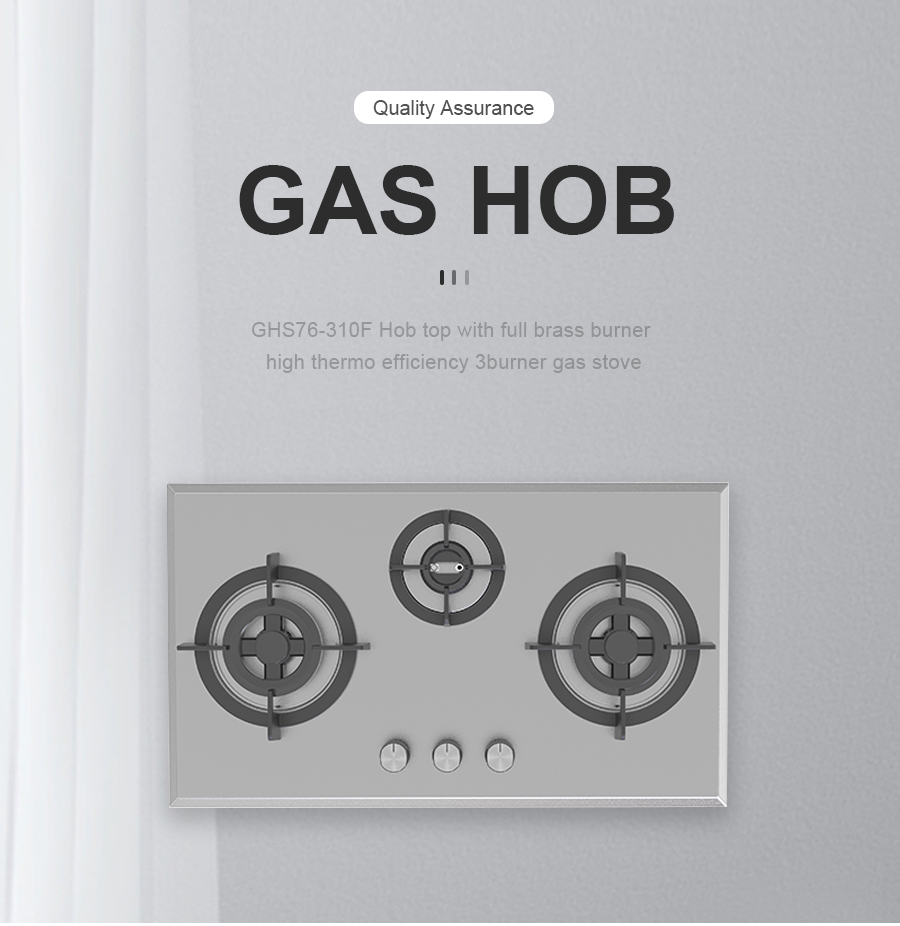 This is a 3 burner gas hob, 76cm wide, satisfying multi-task cooking for a family with 3-8 people. Finger print proof stainless steel panel offers convenience. Cleaning after cooking is not a headache anymore. This gas hob has heat load of 4.8kw/1.5kw/4.8kw (left to right). You can cook a variety of dishes efficiently without trouble. The contemporary design of this built-in gas hob aims to blend and enhance the beauty of any kitchen adding a sense of upscale luxury. Last but not least, a special FFD (Flame Failure Device) function was added to the gas stove. It ensures that the fuel supply to a gas appliance is cut off automatically and immediately if for any reason the flame goes out or becomes unstable. As a sophisticated gas stove hop to manufacturer in China, we're committed to giving our customers trouble-free products.
| | |
| --- | --- |
| Model Name | GHS76-310F |
| Toughened glass | 760mm black tempered glass |
| Burner Size | 90mm/70mm/90mm |
| Heat Load | 4.8kw/1.5kw/4.8kw |
| Thermal efficiency | ≥63% |
| Ignition type | Auto ignition (battery) |
| Burner Cap Type | Full brass burner |
| Pan Support | Round pan support |
| Pan Support Material | Matt Enamel pan support ( optional cast iron pan support) |
| Drip Tray | Full-sealing Stainless Steel |
| Knob | Metal Knob |
| Product size | 760*440*115mm |
| Install Cutting Size | 680*380mm |
| Package Size | 810*490*200mm |
| Loading QTY | 860pc/40HQ |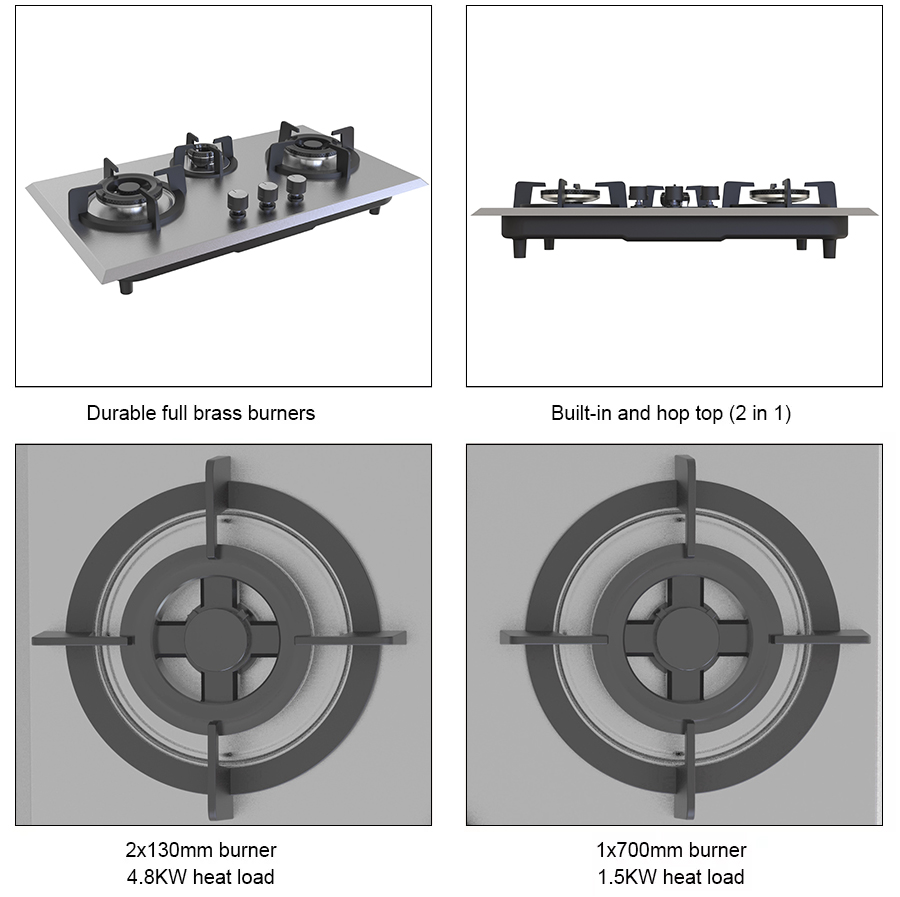 1.When using, do not allow the product to be exposed to strong winds (for example, if the strong wind from outside the window directly blows the flame), this will affect the normal working conditions of the combustion or even work.
2.Remind the user to stay cautious for overheating of frying pan when using vegetable oil or animal fat oil for food cooking. When cooking food with such grease, do not leave the food in the pan and leave it alone.
3.During the training, in case of burning due to the high oil temperature, immediately cover the fire with a large area of metal such as iron cover to cut off the air for combustion, and then close the indoor gas valve. Don't use water to extinguish the fire to prevent accidents.

What are the classifications of gas hobs?
1. According to the gas source used by the gas hob: it can be divided into liquefied petroleum gas hob, natural gas hob and artificial gas hob, etc.;
2.According to the hob surface material: can be divided into stainless steel hob, marble hob and tempered glass hob, etc.;
3.According to the number of burners: it can be divided into single-burner hob, double-burner hob, three-burner hob and multi-burner hob, etc.;
4.According to the position of the burner to introduce the air: it can be divided into the upper air inlet hob and the lower air inlet hob;
5.According to the installation method: it can be divided into embedded hob and desktop hob.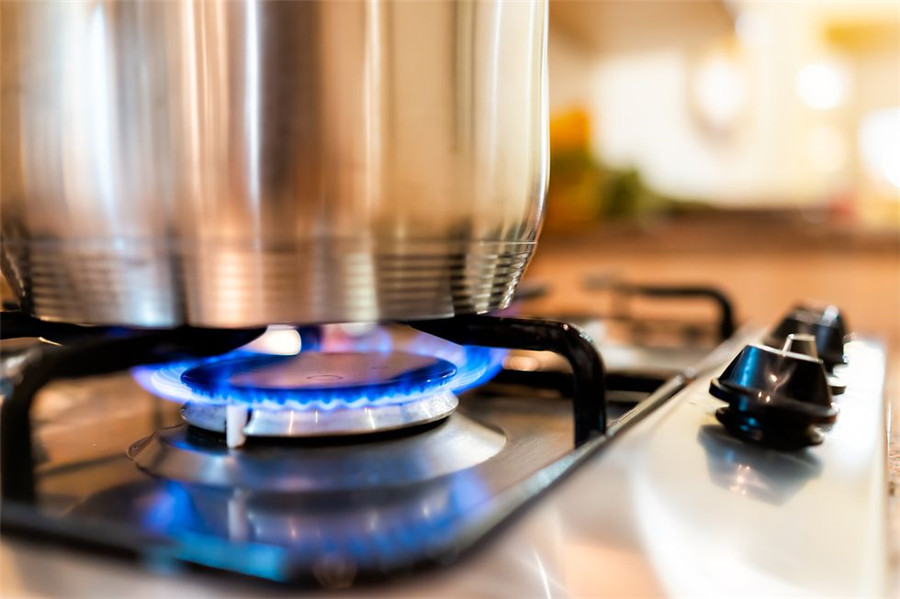 What's the working principles of a gas hob?
When the gas hob is working, the gas enters into the hob from in and out, and is sprayed out from the fire hole of the fire divider through the adjustment of the gas and is ignited by the ignition device. Therefore a flame is formed. The air required for combustion is scaled for secondary air, the flame is used to heat the cookware on the heating pot holder.
If you have some problems about GHS76-310F Hob top with full brass burner high thermo efficiency 3burner gas stove, or want to know more details about T Shape Range Hood,Vertical Range Hood,Under Cabinet Series,Tablet Gas Hob Series,Ultra-slim Gas Hob Series,etc. Welcome to contact us!
Looking forward to your inquiry.