GHG76-311F Full brass burner gas hob stove with 3 burners
Product Detail
Feedback now
GHG76-311F Full brass burner gas hob stove with 3 burners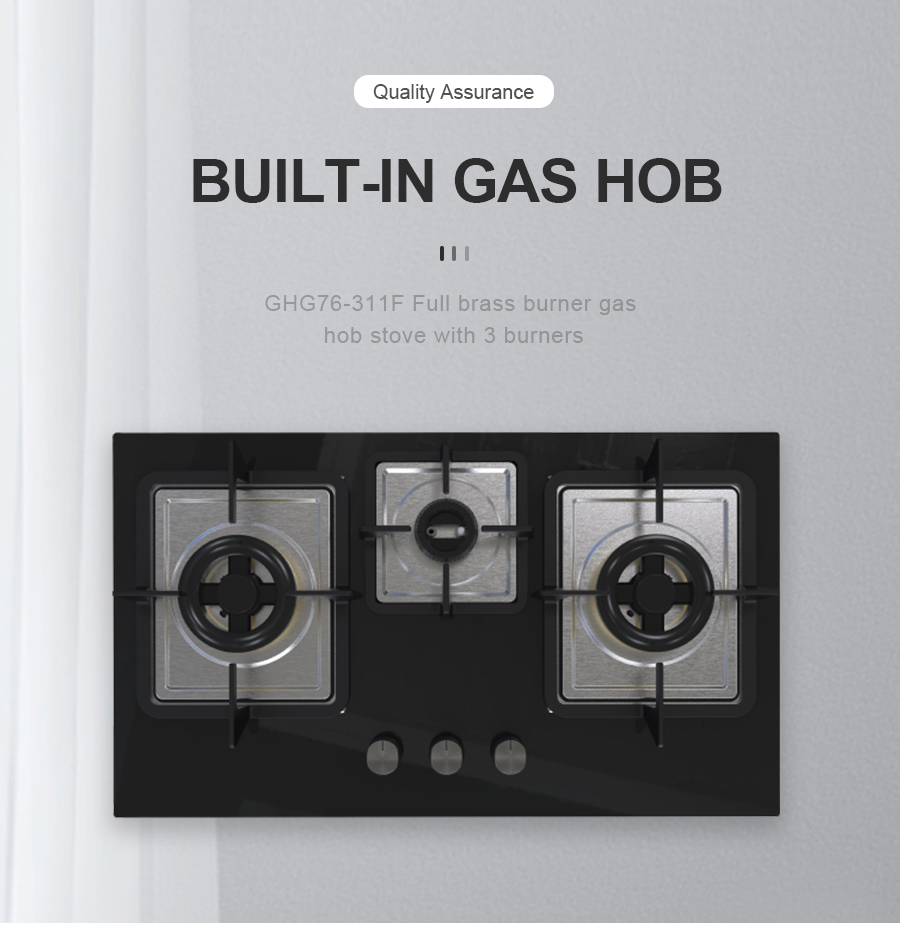 This gas hob comes with 3 burners, which satisfy multi-task cooking for a family with 3-8 people. Elegant black tempered glass with 8mm thickness helps to scale up your kitchen. This gas hob is equipped with heat load 4.8kw/1.5kw/4.8kw (left to right). You can cook a variety of dishes efficiently without trouble. The contemporary design of this built-in gas hob aims to blend and enhance the beauty of any kitchen adding a sense of upscale luxury. Last but not least, a special FFD (Flame Failure Device) function was added to the gas stove. It ensures that the fuel supply to a gas appliance is cut off automatically and immediately if for any reason the flame goes out or becomes unstable.
| | |
| --- | --- |
| Model Name | GHG76-311F |
| Toughened glass | 760mm black tempered glass |
| Burner Size | 90mm/70mm/90mm |
| Heat Load | 4.8kw/1.5kw/4.8kw |
| Thermal efficiency | ≥63% |
| Ignition type | Auto ignition (battery) |
| Burner Cap Type | Full brass burner |
| Pan Support | Square pan support |
| Pan Support Material | Matt Enamel pan support ( optional cast iron pan support) |
| Drip Tray | Full-sealing Stainless Steel |
| Knob | Metal Knob |
| Product size | 760*440*115mm |
| Install Cutting Size | 680*380mm |
| Package Size | 810*490*200mm |
| Loading QTY | 860pc/40HQ |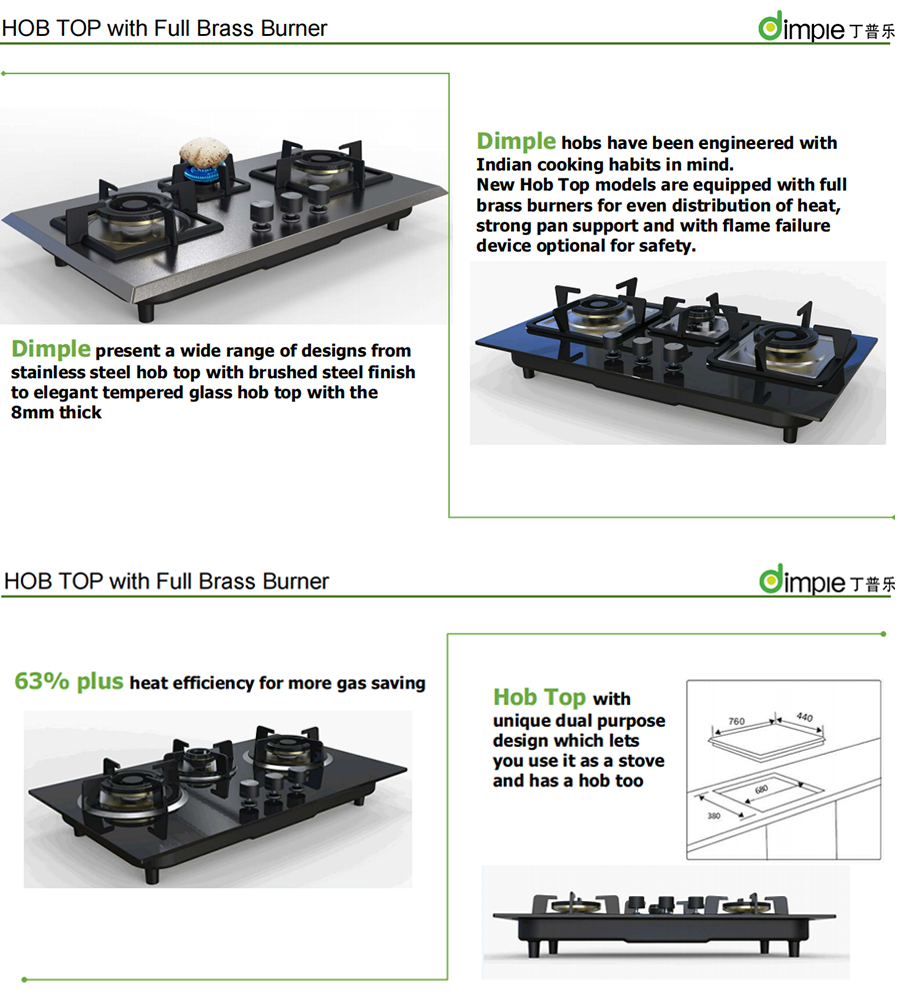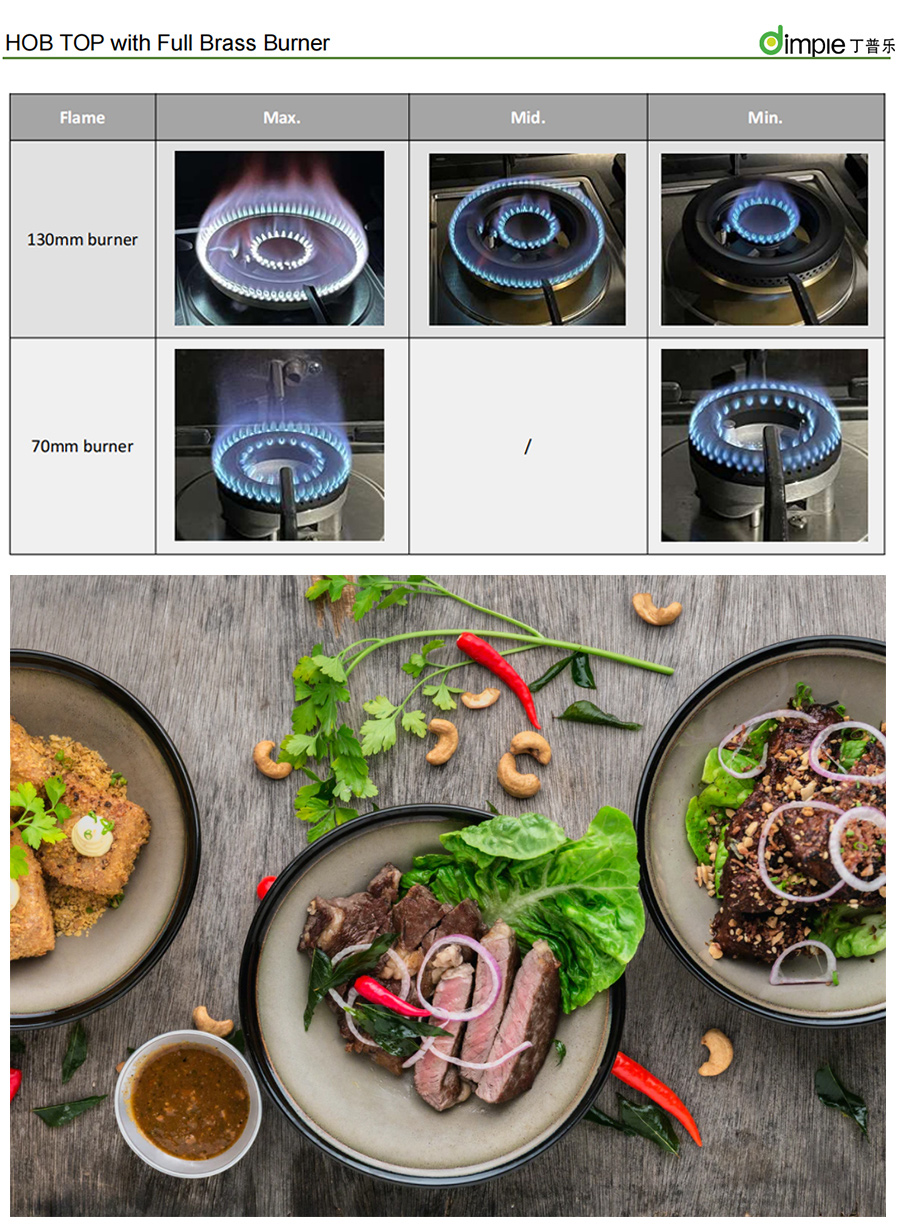 Honesty and Integrity
Honesty and integrity have set the standard for everything at Dimple. We speak and act with the utmost moral, ethical and legal guidelines in mind at work and in our personal lives.
Telling the Truth
For example, even one tiny fault is found during R&D, production, and delivery, we speak out and look for the best solutions instead of hiding the truth. Only in this way can we make the best cooker hoods and gas hobs for our customers.
Constant Improvement
At Dimple, we focused on continuous improvement of products, processes and employees. We never stop thinking what's best for our customers, our products, our employees. We focused on being better positioning ourselves, what we deliver and how we deliver true benefits to everyone.
Respecting Our Customers
It's our basic principle to understand each customer's needs and deliver expectations for service, value, and quality. Creative thinking in solving customer problems and providing out-of-the box solutions. Always place ourselves in customer's position, always thinking what's best for them.

Going forward, we are going further deep in increasing the performance and design of range hood, and we are developing ranges of built-in hob, tablet hob, super slim cook-top to cater all different kinds of better cooking experience to realize our vision, let us "Enjoy cooking"!
Dimple warmly welcome all kinds of OEM/ODM orders!

What are the classifications of gas hobs?
1. According to the gas source used by the gas hob: it can be divided into liquefied petroleum gas hob, natural gas hob and artificial gas hob, etc.;
2.According to the hob surface material: can be divided into stainless steel hob, marble hob and tempered glass hob, etc.;
3.According to the number of burners: it can be divided into single-burner hob, double-burner hob, three-burner hob and multi-burner hob, etc.;
4.According to the position of the burner to introduce the air: it can be divided into the upper air inlet hob and the lower air inlet hob;
5.According to the installation method: it can be divided into embedded hob and desktop hob.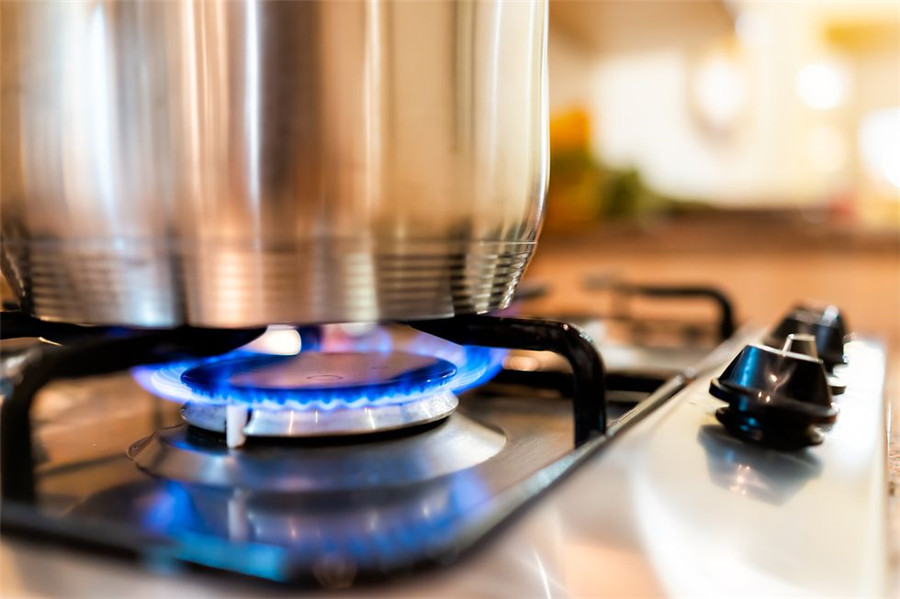 What's the working principles of a gas hob?
When the gas hob is working, the gas enters into the hob from in and out, and is sprayed out from the fire hole of the fire divider through the adjustment of the gas and is ignited by the ignition device. Therefore a flame is formed. The air required for combustion is scaled for secondary air, the flame is used to heat the cookware on the heating pot holder.
If you have some problems about GHG76-311F Full brass burner gas hob stove with 3 burners, or want to know more details about T Shape Range Hood,Vertical Range Hood,Under Cabinet Series,Tablet Gas Hob Series,Ultra-slim Gas Hob Series,etc. Welcome to contact us!
Looking forward to your inquiry.