GFG86-511H Tablet gas hob, tempered glass cook top 76cm 5 burners with Jumbo burner
Product Detail
Feedback now
GFG86-511H Tablet gas hob, tempered glass cook top 76cm 5 burners with Jumbo burner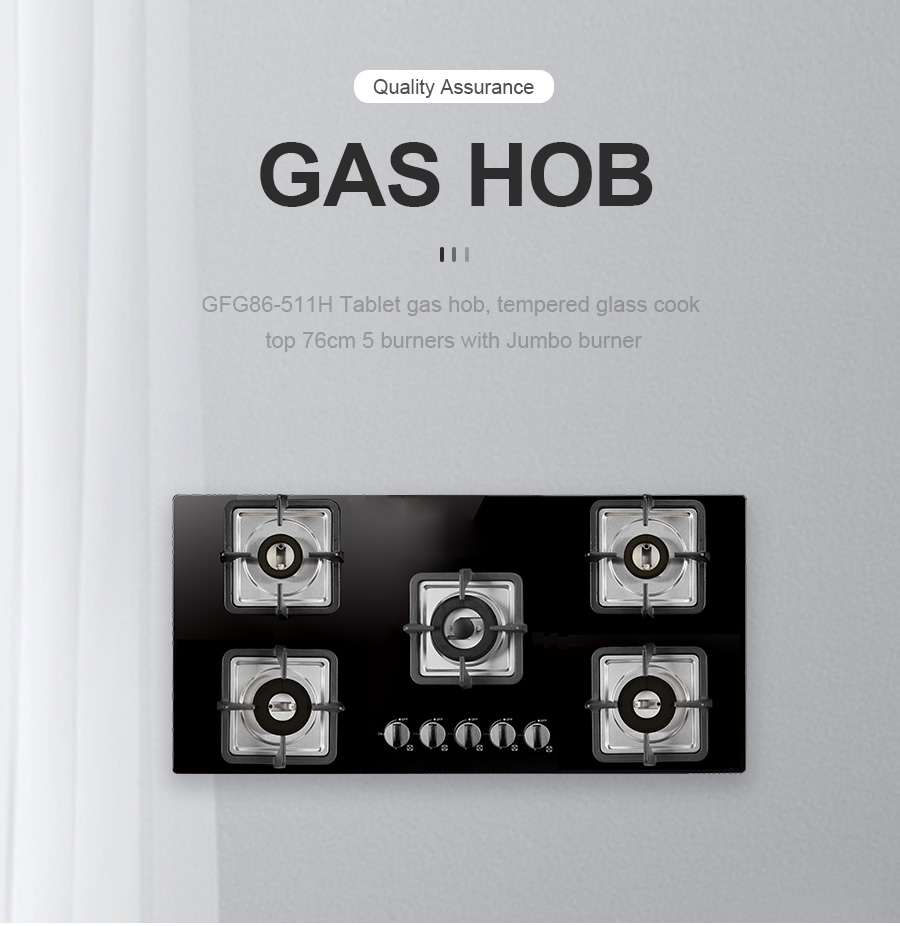 | | |
| --- | --- |
| Model Name | GFG86-511H |
| Toughened glass | 860x450x6mm, with Aluminum alloy edge wrapping |
| Burner Size | 90mm/ 70mm/ 110mm/ 70mm/ 90mm |
| Heat Load | 2.0KW/ 1.5KW/ 3.0KW/ 1.5KW/ 2.0KW |
| Thermal efficiency | 66% |
| Ignition type | Pulse ignition |
| Burner Cap Type | Brass Burner with Black Coating |
| Pan Support | Square |
| Pan Support Material | Matt Enamel pan support (optional cast iron pan support) |
| Drip Tray | Full-sealing Stainless Steel |
| Knob | Metal Knob |
| Aluminum Frame | Different colors optional (black, silver, red, pink...) |
| Product size | 860x450x28mm |
| Install Cutting Size | Free Installation |
| Package Size | 920x510x150mm |
| Loading QTY | 40HQ: 850pcs/ 20FT: 360pcs |
Why should you choose this model?
Dimple GFG tablet hob features free-installation. You don't have to worry about cutting a hole in your table. The Aluminum alloy frame has multiple color options, making it better to match other kitchen appliances. It comes with optional enameled and cast-iron pan support, with different shapes for your choice. You can choose different buttons as well. The black tempered glass panel not only displays a stylish design, but also withstands high temperatures up to 800℃. It has the thinnest body in the industry with only 28 mm. Featuring upper air combustion, our gas hob can reach 66% efficiency. It satisfies multi-task cooking, now you can enjoy entertaining your guests.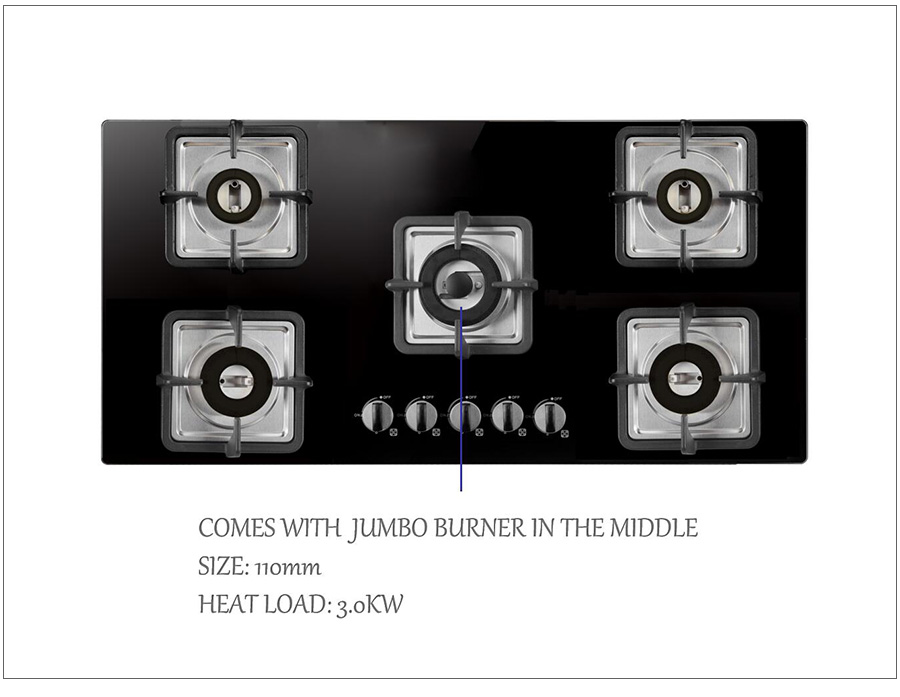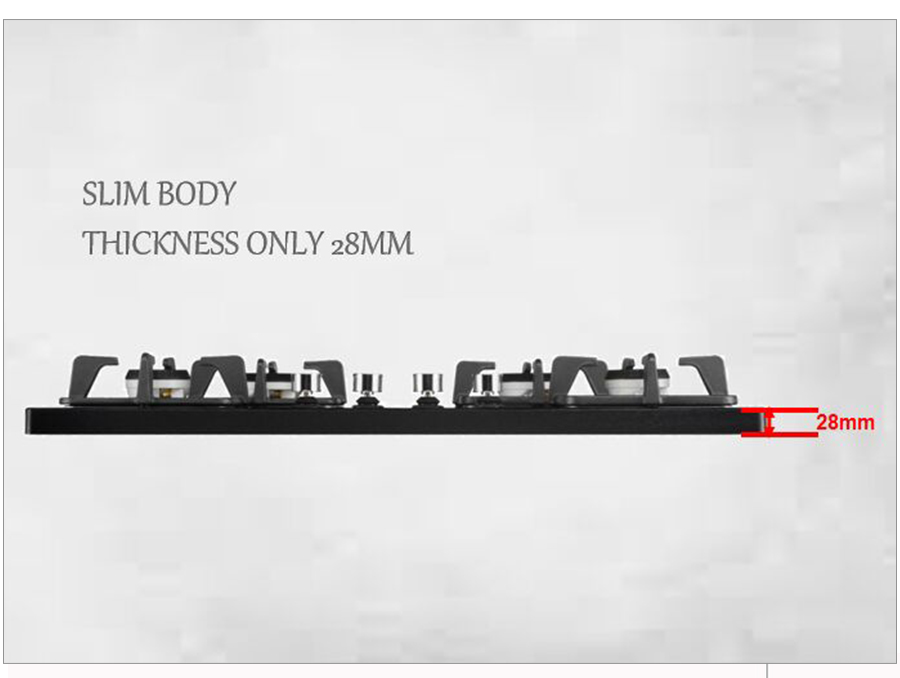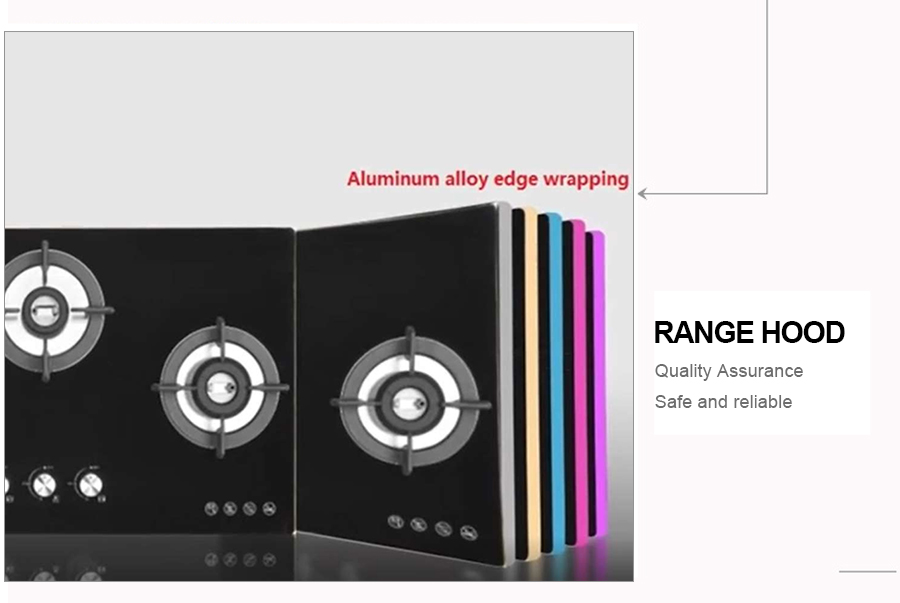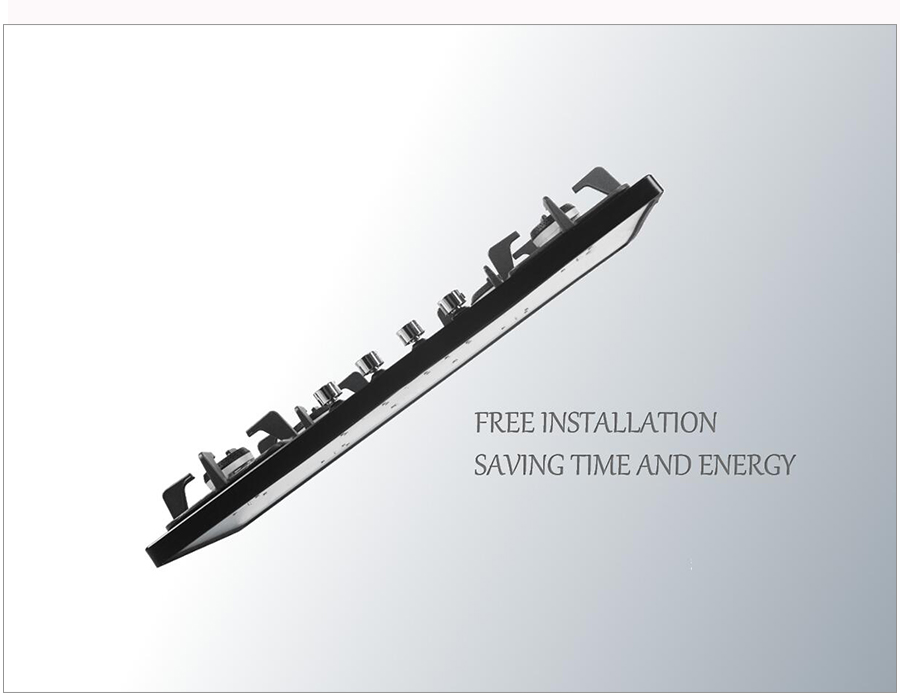 Q.What's the cutting size of the table?
A: This gas hob can be put on the table without cutting a hole. It's more convenient to use, clean and maintain.
Q.What's the combustion way of this gas hob?
A: The combustion way of this gas hob is upper air combustion. Combustion air is the air that is supplied to combustion appliances to be used in the combustion of fuels and the process of venting combustion gases.
Q.What is a Kitchen Hob?
A: A kitchen hob is a cooking appliance used to cook food. It often comes with 1, 2, 3, 4, or 5 burners. In terms of design, hobs come in a huge variety of colors, shapes and sizes, which means it should be easy to find one that complements your style of cooking and your kitchen.
Q.How to install this cook top?
1.SOFT PIPE CONNECTION
• Please use a soft pipe connector, and a special gas pipe to connect.
• The hose must be inserted to the red mark of the soft pipe and fixed with a clamp. The length of the pipe should be less than 150cm.
• When the hose is connected with the soft pipe connector, please do not let the air inlet pipe touch any part of the hob or be placed under the hob. Make sure the pipe is not pressed, twisted, or bend by other objects.
• When assembled, please avoid the soft pipe from any force, otherwise, the connector will be damaged. If damage is found during assembling, please stop and contact your local dealer.
2.HARD PIPE CONNECTION
• For gas hob designed to use a spiral connector, please use spiral connect.
It can also be connected with hard pipe or metal soft pipe.
• Please change the soft pipe every year.
• hexagonal nut of the connector. Avoid damage of the hob.
Please use a sealing pad when connecting, twist it tight with a spanner and hold the
• indication of the hard pipe connecting method, and avoid damage to the connector and plastic pad.
Q.How to use this gas hob?
Gas flow to the burners is adjusted by turning the knobs, so that the indicator line points to the symbols printed on the panel, achieves the following functions:
symbol "" closed valve
symbol " " maximum aperture or flow
symbol "" minimum aperture or flow
If you have some problems about GFG86-511H Tablet gas hob, tempered glass cook top 76cm 5 burners with Jumbo burner, or want to know more details about T Shape Range Hood,Vertical Range Hood,Under Cabinet Series,Tablet Gas Hob Series,Ultra-slim Gas Hob Series,etc. Welcome to contact us!
Looking forward to your inquiry.