102FA-60 Newly designed T-shape baffle filter range hood 60cm
Product Detail
Feedback now
102FA-60 Newly designed T-shape baffle filter range hood 60cm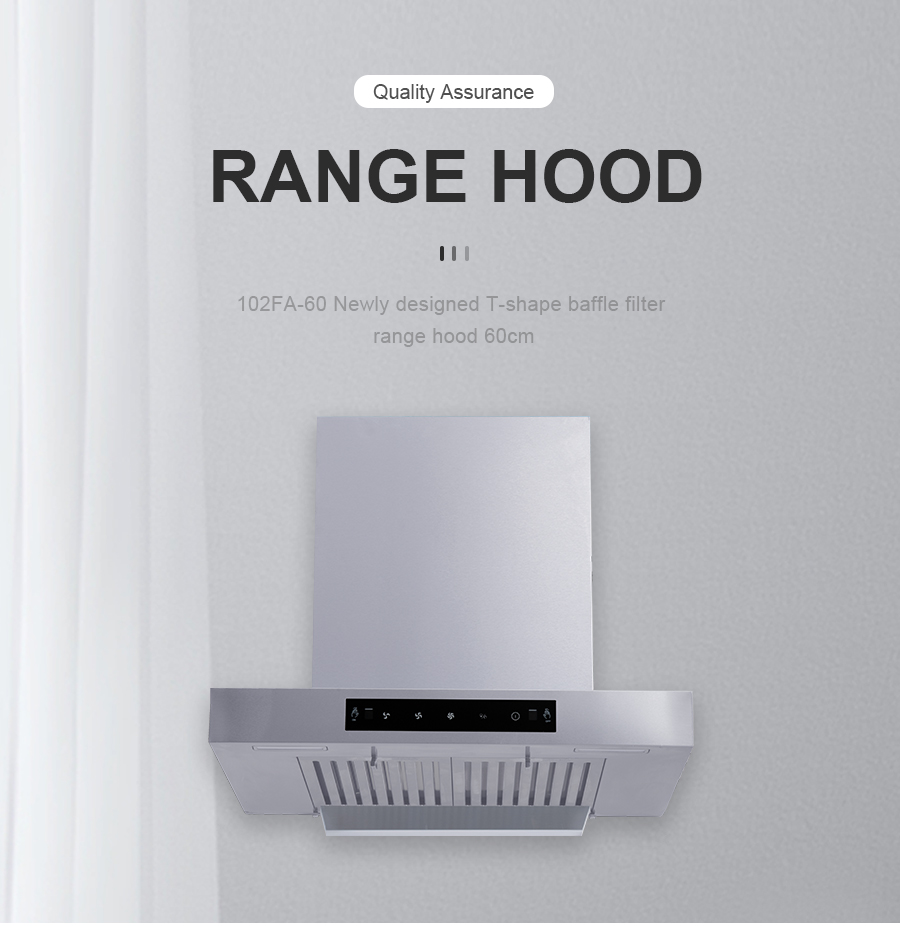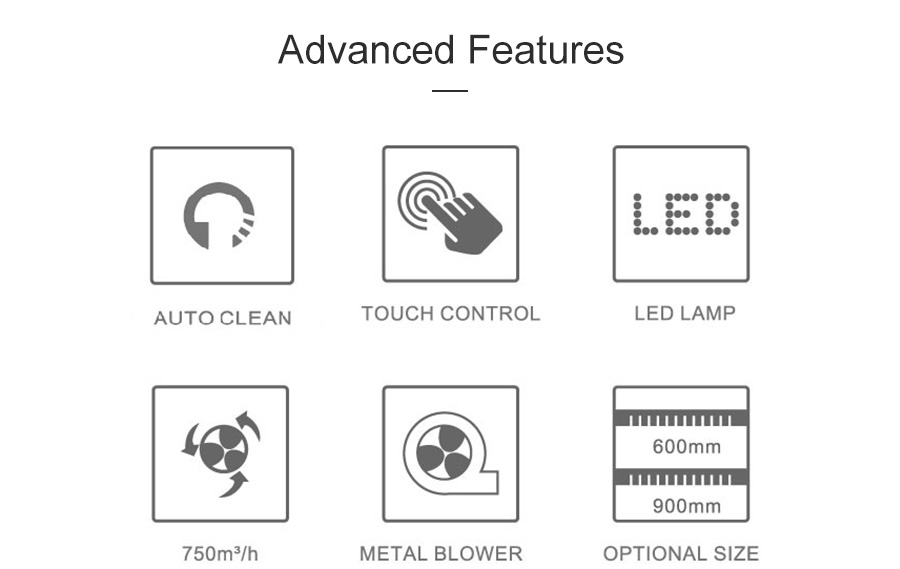 This range hood has an elegant stainless steel 430 hood and body, 3 speed touch control with motion sensor, special heat auto-clean function, which offers you a streamlined cooking experience. 750m³/h suction power, which removes smoke, grease, odors and moisture from the kitchen, keeps guests comfortable in every way. This range hood comes with a durable stainless steel baffle filter, which helps to enhance suction performance. Not every range hood has a metal blower, but this one is exceptional. The durable metal blower makes the range hood more efficient and long lasting.
Model No.

102FA-60

Filter

2pcs Baffle Filter

Finish

Stainless Steel 430

Oil collector

Stainless Steel

Airflow

750m3/h

Blower

Metal Blower

Rated input power

234W

Auto-clean

Heat Auto-clean

Control

3 Speed Touch Control with motion sensor

Packing Dimensions (W*D*H)

655*540*435mm

Lamp

LED 2x1.5W

Loading QTY (20GP/40HQ)

187pcs/450pcs

Delivery & Service

Timely delivery each time. Provide reliable service and responsible for each customer with each product. Our target is to satisfy every customer with the best service.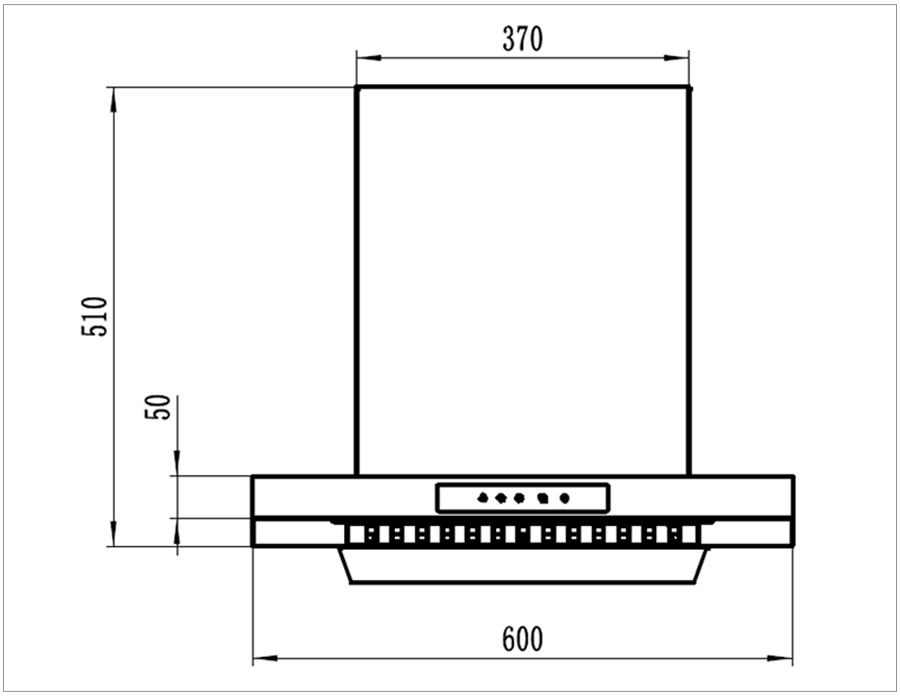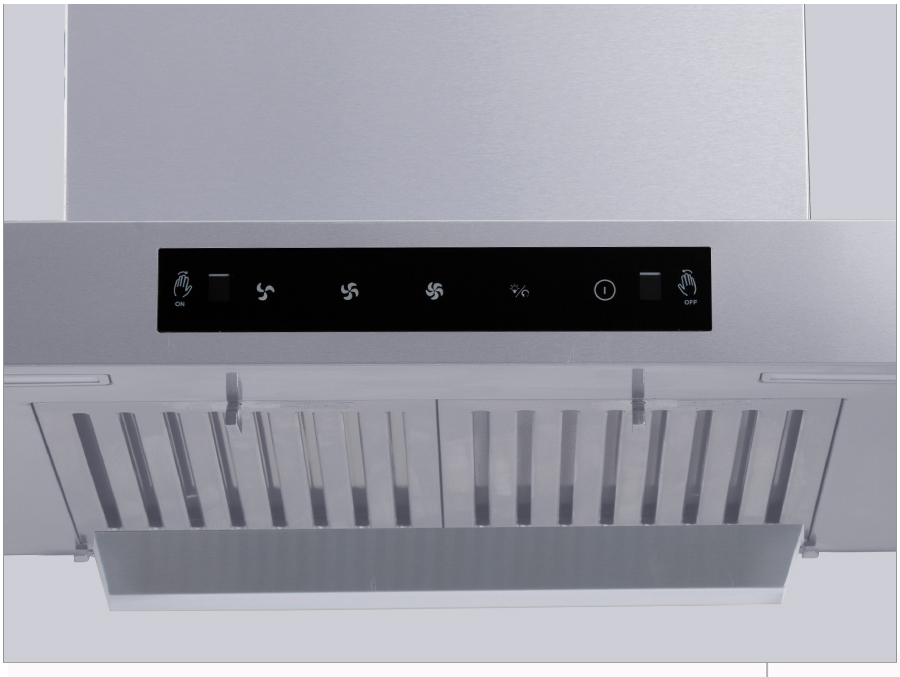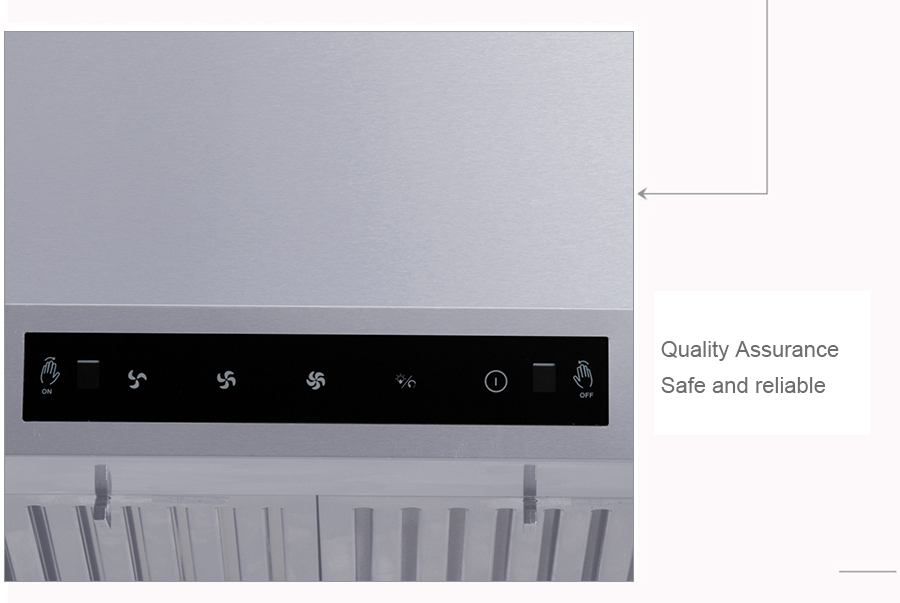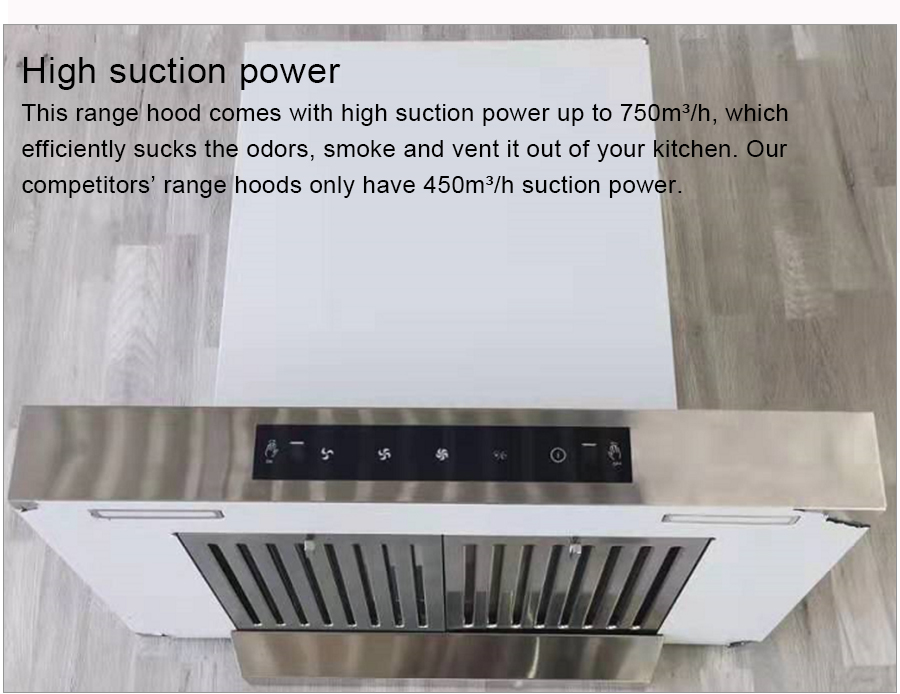 Motion sensor control
Traditional range hood comes with push buttons. But Dimple range hood comes with touch and motion sensor control. Image you're cooking and your hands are full of grease or food, you want to switch to big airflow. Pushing a button can be inconvenient. But motion sensor control makes cooking easier by just waving your hands to the control panel.


Important safety instructions before using a range hood
● Disconnect the power supply when cleaning or inspecting the product.
● Do not damage or place heavy objects on the power cord.
● There must be adequate ventilation of the room when the range hood is used at the same time as appliances burning gas or other fuels. (A partial vacuum in the room could result in too high a concentration of gas in the air).
● Never expose the range hood to a burner or element that is turned on without a pot or pan covering it.
● If the hood is installed above the gas appliance, the minimum distance between the support surface of the cooking vessel on the cook top and the lowest part of the range hood should beat least 650mm. If the gas stove installation instructions specify a larger installation distance,this should be considered.
● Never use aluminium foil on the cook top.
● If using shared ducting, the air outlet must be well secured and sealed.
● Exhaust gases must not be discharged into a hot flue being used to vent appliances burning gas or other fuels.
● Do not flambe directly under the range hood.
● Children and persons with reduced physical, sensory or mental capabilities shall not use the range hood without supervision.
● This appliance can be used by children aged from 8 years and above and persons with reduced physical,sensory or mental capabilities or lack of experience and knowledge if they have been given supervision or instruction concerning use of the appliance in a safe way and understand the hazards involved. Children shall not play with the appliance. Cleaning and user maintenance shall not be made by children without supervision.
● There is a fire risk if cleaning is not carried out in accordance with the instructions.
● If installation is performed by a qualified person, the product should be tested to confirm proper operation, and the correct use of the product explained to the user.
● Use a dedicated power outlet; the power cord must not be connected to an extension cord or multi socket power board. Secure grounding is required.
● Regulations regarding the discharge of air must be fulfilled.
● This appliance is an external exhaust hood, air and smoke is discharged to the outside through the air duct. To properly exhaust air ensure the duct is straight.
● The appliance shall be able to work normally under the following environmental conditions:temperature -15°C ~ 40°C, relative humidity ≤ 90% (at 25°C), altitude ≤ 1000m.
● Remove all packaging, including protective wrappings, before use.
● CAUTION: Accessible parts may become hot when used with cooking appliances.
● If installation is performed by a qualified person, the product should be tested to confirm proper operation, and the correct use of the product explained to the user.
If you have some problems about 102FA-60 Newly designed T-shape baffle filter range hood 60cm, or want to know more details about T Shape Range Hood,Vertical Range Hood,Under Cabinet Series,Tablet Gas Hob Series,Ultra-slim Gas Hob Series,etc. Welcome to contact us!
Looking forward to your inquiry.